COVID Measures and Policies for Members
We have diligently increased our sanitation practices and environmental efforts.
The gym has never been better.
With regards to member responsibility, we believe in science and have implemented common sense policies for members as it pertains to maintaining safety for our community. Our membership has been supportive in our efforts.
Here is a two minute video covering our check-in system: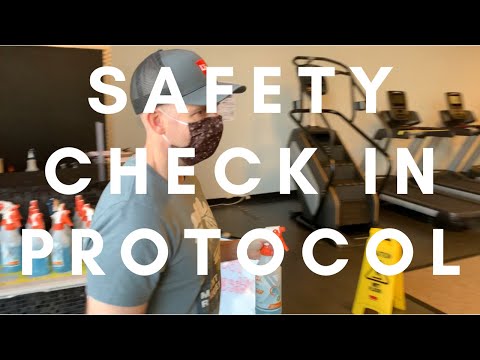 Our COVID policies are as follows:
If you are symptomatic or have been diagnosed with COVID-19 within the past 14 days, you may not access the gym.
All members, staff and trainers must wear a mask or face cover, covering both the mouth AND nose. The mask must be worn before entering the gym and while working out.
Upon arrival, please undergo THREE step check in process.

Temperature Station: A touchless thermometer is mounted upon immediate entry. Hold forehead or wrist to thermometer. A green light indicates a good temp. A red light indicates that your temperature is too high and may not enter.
Sanitize hands, using alcohol based hand sanitizer provided at the check in station.
Take Sanitation Bottle: There are numbered sanitation spray bottles for you to take during your workout. The bottles contain an active virucidal agent. Spray into provided towels to wipe down touch points of equipment before and after using. After your workout, sanitize and return the bottle for the next person.
If there no bottles available, the gym is at capacity and you should wait until someone exits.

Before and after working out, all members must wash hands or use hand sanitizer. All restrooms doors are propped open for easier access to automatic sinks. If you are not using the restroom, please keep doors propped open. Hand sanitizer is at the front desk.
Maintain social distance of 6 feet or greater. No physical contact (high fives, handshakes, hugs, etc.)
Please bring your own hydration.
The shower, though private, will not be available, so please prepare to shower at home.
Please bring your own towel, yoga or ab mat.
Our COVID policies are evolving as more information develops. If you would like to influence how we handle COVID, please take our survey by clicking HERE.