01. Hey! The door is locked! What gives?
We are a 'key club' and exclusive to members.
'Key club', huh? What does that mean?
That means our front door is always locked, and accessible only to members.
Every member in good standing has a Key Fob they use to tap the key reader at our door which unlocks it to gain access to the gym. We call this 'tapping in'. This creates a very safe and secure environment where, even late at night, only members are allowed in.
Tapping in also creates a rolling attendance record and confirms to our system that everyone in the facility actually belongs to the facility. We cannot emphasize enough how important tapping in is.
We have three important rules regarding tapping in:
Rule 1: Tap in every time you visit. Tapping in unlocks the door for you, but, if, for whatever reason, you get through the door (your friend held the door for you), be sure to close the door after you enter and tap in on the inside. Even though you are in the building, the system needs to know you belong here.
Rule 2: Do not let someone you don't know into the gym. That means nobody. Seems rude, but it's not. Even if they look nice, they may not be a member. The person could be a heap of trouble or they could be someone looking for a free workout when you and others are paying members.
Rule 3: Do not loan your Key Fob to anyone. This means nobody. Your membership is yours. This is a members only facility and the value of our membership and their security is important.
There is active surveillance at our facility. Anyone found letting nonmembers inside or loaning their Key Fob to nonmembers will have their Key Fob deactivated, and may have their membership terminated without refund and without the option to rejoin. End of story.
Harsh? Maybe, but we take the security, comfort and value of our membership very seriously.
02. What Are Your Memberships Like?
Our memberships are month to month with no long term contracts.
Our membership pricing is straightforward.  Everyone gets the same joining opportunity, so you will know that nobody got a better 'deal' than you did.
Currently, membership is $34 per month, automatically billed to credit card or checking account. There is a one time $60 enrollment fee; so to get started, you pay $94. After that, it's $34 automatically billed to your credit card or checking account each month until you decide to quit.
03. Are You a Franchise?
Nope.  We are locally owned and operated with no franchise or 'corporate' relationship.  We are a one-of-a-kind, independent facility.
04. When Are You Open?
Our Operating Hours are 5am to 11pm, 365 days a year.
Even open on holidays.
Want to come burn off that turkey on Thanksgiving Day when all other businesses are closed? As a member, just tap in your Key Card and come on in.
Pretty cool, huh?
However, be aware of the six hours we are not open for business. We are a secured facility and the alarm automatically arms right after closing time at 11pm and automatically disarms right before opening time at 5am. Therefore, if you are in the gym after hours, you are going to set off the alarm and the authorities will be coming.
We don't want to bail you out of jail and we don't want to terminate your membership because of false alarm fines. So please, even though we like you, stay out during after hours.
As the gym is getting ready to close, the lights and TV's will begin to shut off automatically.  This is the signal to get ready to leave.  By 11pm the lights will all be off and the alarm will begin to activate.
The reverse happens when the gym is getting ready to open at 5am.  So if you like to workout early, just make sure the lights are on before coming inside at 5am
05. When Do You Accept New Members?
We hope you find our staff friendly and helpful. We are open to MEMBERS 5am to 11pm daily, but we accept new members during limited staffed hours. The staff schedule does vary and is subject to change.
Typically we are staffed:
Monday through Thursday 10am to 7pm.
Fridays 10a to 5p.
Saturdays 10a to 4p.
Sundays by appointment.
Note that these hours are typical and sometimes change.
If you're going to visit us, stop by during staffed hours and ring our doorbell, or call 404-549-7767.
06. How Do I Check the Gym Out?
We would love to show you around. During the hours we are staffed you are welcome to just show up and ring the doorbell.
Remember, we are a 'Key Club', so the door will be locked, but ring the doorbell (during staffed hours) and one of our staff will let you in so you can check us out.  So we can best lookout for you, call 404-549-7767 when you're on the way.
If it is not during Staffed Hours, you can either call or can make an appointment for a tour by email to info@livfitness.us.
When you visit our facility, we will show you around, hopefully make you feel comfortable.
07. So You Have a Phone App?
Yes!  Our phone app gives you access to FREE workouts from our trainers, allows you to update your billing info and sign up for our classes.  When you join, you'll get a link to download the app to your phone.
08. I Don't Like Gyms With a 'Scene.' What is the Vibe Like?
What?  You mean you don't want to join a clique or feel like you have to wear a 'uniform' to workout?
Don't worry.  It's chill here.
If you want to make friends, that's great, but if you want to be a lone wolf and just do your workout, that's totally cool.
We're a 'secular' space, where people of all fitness disciplines and levels coexist and respect each other.  If the Starks and Lannisters were to get along, this would be where it would happen.
09. I'm Doing a Strength Program. Can I Deadlift At Your Gym?
Yes, but with a caveat.  Deadlift as much as you want, just make sure you don't lower the weight so quickly it makes a thunderous noise.
We get it: deadlift movements (conventional and sumo) strengthen the posterior chain and allow for heavier loading for more economic and efficient strength programming.  We know there are are several popular and effective programs (StrongLifts, Starting Strength, 5/3/1) that suggest doing them.
We love it when people train hard, just remember we are a 'secular gym', and not affiliated with any kind of 'workout dogma'; we are a place for all kinds of people that workout in a variety of methods; from yogis to runners to lifters.
So in the interest and respect for our other members, if you want to do deadlifts (or cleans or pendlay rows), it's cool, just keep them under control.
Thanks in advance for respecting those around you.
10. Are Kids Allowed?
No. We love children, but for everyone's safety, only those eighteen years of age or older may access the gym.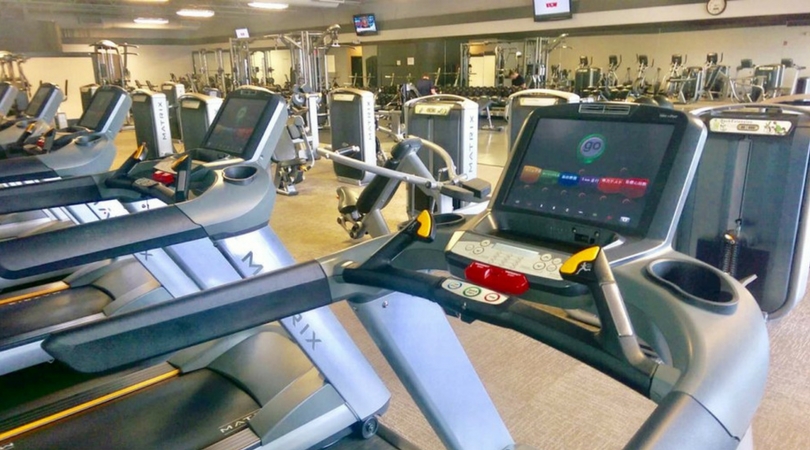 11. Do You Have a Guest Policy?
No. Sorry.  We know it's your friend and we are flattered that you'd like to show off our gym.  But the potential for security lax and abuse from others is just too great, so reluctantly the answer is still "no."
She or he is welcome to meet us to check out our facility, but if your friend wants to workout, she or he will need to become a member.
Contact 404.549.7767 or info@livfitness.us.
12. Do You Have Bumper Plates, Battle Ropes, Fractional Plates and Other Unconventional Equipment?
Depends what you mean by 'unconventional.'
But the answer is "Yep.  We have all of those things."
A quick note about the bumper plates: they are NOT for dropping from elevation (see FAQ # 08).  The bumpers are 10 lbs and 25 lbs and are for those that want to deadlift (or row) but do not yet have the strength for pulling 135, but need the diameter of the plates to be such that pulling from a deficit does not occur.
13. Do You Have Classes?
We do!  Our group exercise classes are intense, focused, motivating and fun!  Best of all, if you are consistent, you will get and see results.
Advanced registration is required.  Payment for classes is due at registration.
Currently our class schedule is limited, but we plan to add more classes as needed.
If you would like more information on our group exercise classes, contact us at info@livfitness.us.
14. Can I Use Chalk in Your Gym?
Yes, you can use chalk.  Sometimes you need to keep your hands a little more dry during hard training.
However: All we ask is that you keep it in your own container and clean up after yourself after training.  It's a matter of respecting the communal space.
To keep a space for everyone to enjoy, we ask that members unload barbells, wipe down upholstery and clean up chalk when they are finished training.
15. How do I cancel my membership?
What?  You say you wanna leave?  We hope it wasn't something we did (or didn't do.)
To cancel, we need you to return a Cancellation Request Form along with your membership Key Fob.  You can deliver these things personally to us, put them into an envelope and drop into our mailbox, or use postal mail.
This is a seven (7) day cancellation request, so to avoid a final billing, make sure you get your form and Key Fob to us no less than seven days before your next auto-billing date.
To download and print the form, go here: livfitness.us/cancel